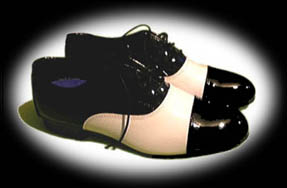 | | |
| --- | --- |
| Links: | |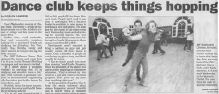 Here is a picture of me dancing with Chelsea Johnson in the Gazette-Times, the Corvallis newspaper. This event was at a Wednesday night practice at Oregon State University, these practices are a good way to relieve stress and avoid homework.

Here is a little example of what you can do with swing clothes when you are not dancing. I did this during the week of valentines day 1999. I would deliver a rose or a box of chocolates and sing a song to who ever the Guitar-O-Gram was for. Yes, I did one for a guy from a guy as a joke, it was the most fun I'd had in a long time; my mouth hurt from laughter. I wound up doing 7 legitimate ones for girls from guys, some were just from friends and some were for engaged college students (Yikes!).
A little info on me and dancing:
I guess I started dancing around the month of February 1998, before that I would have never guessed that I would be where I am today. Dancing brought me self esteem, self confidence, the power (and oh yes it is a power) to be able to talk to girls.
A guy named Keith Hazelton lived in McNary Housing Complex with me and he is who got me started. One night at a Thursday night swing practice that he started holding in the McNary main lounge, he showed me the basic single time swing step. "Ok this is great," I thought, I can do the basic. Then I tried doing some basic turns, a little ugly. Eventually I got to the point where I was dancing with a group of friends and we all learned quite a bit. Spring term of 1999, I signed up for ballroom I with Kathy Dark (a very good dance teacher) and I learned a bunch of basic ballroom dancing skills. When summer came along, I got a little worried that I would not be able to dance when I moved back to Portland from Corvallis, but I found the SwingOut.net web site and had the best summer of my life.